Judicial Crisis Network Launches Two New Ads Featuring Democrat Law Clerk for Kavanaugh and Hillbilly Elegy Author; Expands Outreach to MSNBC
WASHINGTON, D.C. – The Judicial Crisis Network is unveiling two new ads today. One features Kathryn Cherry, a registered Democrat and former Kavanaugh clerk, which will air on MSNBC, and the other ad features J.D. Vance, author of Hillbilly Elegy and will be added into JCN's existing TV and digital ad line-up.
These ads are being rotated into JCN's current spending and are a part of JCN's previously announced ad buys, which currently total $5.3 million since Justice Kennedy announced his retirement.
Statement from Judicial Crisis Network's Chief Counsel and Policy Director, Carrie Severino:
"These ads underscore the fact that those who know Judge Kavanaugh best know him to be a good man, a fair and independent judge with a long track record of basing his decisions on the law and the Constitution.  He will be another great justice on the Supreme Court."
Ad featuring Kathryn Cherry: https://youtu.be/PBjEJPdAOPo
SCRIPT
Ad featuring J.D. Vance: https://youtu.be/CqV7R2BSj84
SCRIPT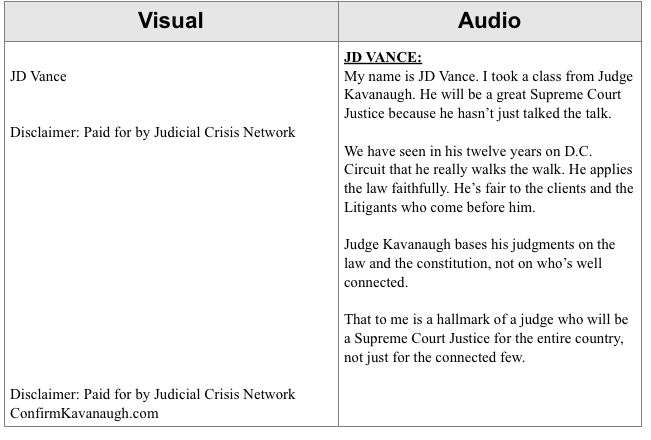 Background:

Since July 9, 2018, JCN has spent $4.3 million highlighting Judge Kavanaugh's incredible record on the bench; $2.1 million of that total spend has been in IN, WV, ND, and AL.
###